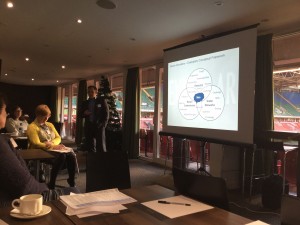 Today has been interesting in the journey towards reducing Healthcare Associated Infection across our patch of Wales. For those of you who come here regularly to read of progress, you will be aware that the Hywel Dda University Health Board have agreed a paradigm shift in the way we think and address healthcare associated infection. The microbiology and infection prevention team were nominated by the Hywel Dda Health Board as an exemplar in the work around Prudent Healthcare being led by the Bevan Commission.
We spent the day in Cardiff at the Millenium Stadium learning about the role of the Bevan Commission in supporting the health ministers aims around prudent healthcare and how our projects will act as a stimulus for others in Wales. There are a whole series of different projects but interestingly, the things we are trying to do in Hywel Dda may find support or synergies with other projects that will help us as we drive the different projects forwards.
Part of the day involved challenges around our plans. I'm writing this as I am conscious that we recognised some time ago that if we are going to begin to influence the general population, then we had better get on and tell them what we are doing. I am also conscious that the group at greatest risk from healthcare associated infections are the elderly population of Hywel Dda and I was challenged today that many older people will not use this sort of technology. Part of my response to that challenge is to recognise that while some older people do not use technology, many others do and in any event, many will have children and grandchildren who can pass on the issues we discuss here. Therefore, while we may not reach all of our target audience, we may reach those who influence our target audience. So if you are a grandson or granddaughter, we are relying on you! Join our party and engage with us over the coming months. We'd love to hear from you.